The Santa Barbara City area and the Channel Islands were inhabited by the Chumash Indians before settlements by Latin and then white descent. Anapamu means 'The Rising Place'. With our place of higher learner on a hill in Santa Barbara, overlooking the ocean and the Channel Islands, with inspiration we use the word Anapamu to indicate where and also why we come.
ANAPAMU&ASH STUDENT HOUSING is a collection of single family homes which are operated as small shared-room dorms, within walking distance to SBCC
Vi talar Svenska!
Basic FOOD SUPPLIES and household supplies INCLUDED!
See
HERE
for details
Student Housing in Santa Barbara

Although most of the other higher educational facilities within the greater Santa Barbara area have provisions for housing their students, SBCC does not provide any housing for its up to 22,000 annual students. Making things even harder, many landlords refuse student housing for fears of heavy property use and damages, long distance collections, noise complaints and other troubles associated with some younger adults. If you are able to find housing close to campus, the prices of empty apartments run from $1,200 for a studio, $1,400 to $1800 for a one bedroom and $1,800 or more for two bedrooms. You then need utilities (don't forget ethernet/ cable at $140 per month!! ), furniture and finally, do you want to start out alone in Santa Barbara?
Thinking of joining up for roommates? Formed groups fall apart with others left shouldering the costs or scurrying to find new roommates, sometimes several times in one semester. But this is not a factor with our Student Housing. Your account is just for your one student.
Isla Vista ( the only district where BIG dorms are zoned ) is 12 miles from SBCC and is the housing for the fourth-largest party campus in the USA. UCSB. It is the most densely populated square mile in America, and it's the place where you walk down DP ( Del Playa Blvd. ) with your party, or 'kegger' cup, and walk from party to party until dawn. Most students go out there, some from time to time and some regularly, but wouldn't you rather live four to six blocks from school and 12 miles from the party, than 12 miles from school and an hour bus ride from campus?
PARKING FROM IV. For the 22,000 SBCC students, there are only 2,200 parking spaces on campus. The SBCC offices muse that their parking permit should be renamed a "hunting permit." Most trips to campus involve staking out a parking loop and waiting in a line of cars for a space to open.
BUS RIDES FROM IV. The 12 mile bus ride is marketed as 20 minutes, however there are only two express buses a day faster than the regular 45-minute ride to the Transit Center (you will still need another bus up to campus). Line 15 goes to SBCC in 28 minutes, but only until 11:40 a.m. So, you're stuck if you have just an afternoon class. Line 24x takes 36 minutes but again only leaves you at the transit center to still find a bus up to SBCC.
And no bus ever leaves just in time to step into class, nor is it waiting right after your last class. It's a 1.25 to 1.5 hour trip
each way
, each day. And there is no running home for lunch or to get something left behind. Jump to
sbmtd.gov
for the bus schedule.
These are some of the problems we see and are working to prevent with our concept at ANAPAMU&ASH Student Housing.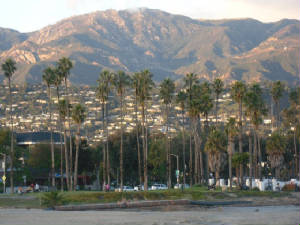 "Having a house to come home to after a night of fun in IV is much better than having to go home to IV.." – Fredrik



Elise Way House

"I met my eight crazy housemates for the very first time. It took about 24 hours and then I felt like I had known most of them for years – a truly amazing experience, one I've never encountered before. We've laughed and shared our lives for the past five months and I can genuinely say that if someone asked me, 'Would you do it again?" My reply would be; " – in a heartbeat!"" – Eliza



Elise Way House

Roommate housing without the 'group commitment'. If one moves out your not left 'holding the bag' on greater expenses.

Housing is shared room occupancy with ample common areas, not unlike university dorm housing. Good friendships form between you, your roommate and your housemates.



Elise Way house

"Whenever we had something break or not work the way we wanted it to, we could always call Dave and he would be there to fix anything.." – Tom

ACTIVE Student Housing Benefits:

All furniture, utilities, cable and high- speed wireless internet included.

Kitchens are equipped with the standard needed gear; pots, pans, plates, cups, bowls, utensils etc.

Includes weekly

common area cleaning

( For more info click

here

)

"I'm very happy with my stay at our house. I've had a great year in Santa Barbara!" – Laura



Castillo House

"As I arrived at the house my initial thought was how am I going to fit in here? To my surprise, it turned out me and my housemates did everything together and I had my place in the group right from the start. We have had so much fun throughout the past semester and I now have friends from different places in the world, who I would never have met, had I not come to SB. I love it!" – Andrea



Elise Way House

Our locations (except 'outlying' locations) are only a few blocks from campus and you can easily walk or bike to school.

$995 is our premium house Elise, $895 are the walk-to-campus houses and $795 are the outlying houses, which require a bike or short bus ride to school.

Commitment is for 1 school year, so our housing can be used to enter S.B., live with and make good friends and then get to know the area for possible new housing the second year. NO SINGLE OR PARTIAL SEMESTERS.

Important Notice!
Anyone who has been, or is currently in contact with us, especially if you are a current client of ours; We encourage you to add our email address
activestudenthousing@yahoo.com
to your email contacts. Please
add us to your contacts
so that you definitely receive correspondence from us. Thank you!
Use the form below for inquiries of availability or any other questions you may have.
Contact us!